WebaP

Sys -

Repair Shop Management software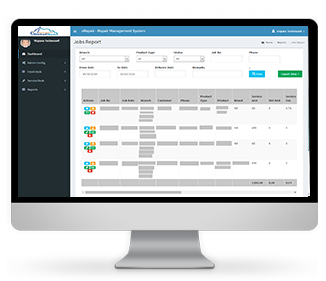 The Service based Repair Shop businesses are more concerned about efficiency, productivity, and excellent customer service.
WebaPSys is a customizable cloud-based ERP Software Solution exclusively implemented for Repair Shops. Repair shops receive items for repair or Repair Depots that send out all their repairs. WebaPSys ERP software practically walks through the repair process, from the initial ticket creation to the step-by-step work log actions performed on the repair item, to the final completion of the repair. Easily set-up & manage your Repair Shop or Customer Support Center with CRM(Customer Relationship Management), from one branch to many, in the cloud.
Repair Shop Management Software Features
Ticketing
WebaPSys Quickly generates Customer Repair or Support Tickets and related Assets. Tickets contain all details of the user, repair item, date.
Ticket List for Easy Job Management
WebaPSys Organizes a repair item by Status, Problem Type, and Customer name, Assigned Technology, Track by Created Date or Due Date.
Add Inventory Items to Tickets
WebaPSys makes it very easy to add many Items to a single ticket. All tickets reflect approved items when printed.
Complete Invoicing System
WebaPSys convert Ticket charges to invoices. WebaPSys provides Customizable payment methods. WebaPSys sends Email and SMS Invoices to customers.
WebaPSys CRM sets automatic Email and SMS notifications to keep customers informed of repair status. WebaPSys CRM also provides courtesy follow-ups, or creates drip marketing campaigns.
Powerful Dashboard & MIS Reports
At-a-glance view Customers data and repair data by an easy user interface. Quickly see ticket quantity and status breakdown. Generate reports in a fraction of seconds.